BONNIE BRITE CLEANERS' & LAUNDRY PREMIER
PICK UP & DELIVERY SERVICE
Try us for quality dry cleaning and laundry!
OUR DELIVERY AREA
Our team proudly serves many areas of Queens including Flushing, Whitestone, Bayside, and surrounding areas.
ABOUT US
Our experience makes Bonnie Brite the clear choice when it comes to Dry Cleaning and Laundry Services.
PROFESSIONAL CLEANING SERVICES – REASONABLY PRICED & DELIVERED TO YOU!
SERVING QUEENS RELIABLY AND WITH DISTINCTION FOR 40 YEARS
We serve the communities of Bayside, Bay Terrace, Flushing, Whitestone, and surrounding areas for over 40 years. Bonnie Brite is a full service dry cleaner offering a wide array of delivery and laundry services. We provide traditional dry cleaning, business shirt laundering, convenient wash & fold laundry, expert repairs and alterations, shoe repair, area rugs, draperies, comforters, wedding gown cleaning and preservation, fur and leather care, seasonal storage, custom fittings, smoke & flood restoration, and more.
START NOW
Quality and convenience are a click or call away. Competitive pricing, free delivery, prompt service and a variety of service options to suit your individual needs. Try us today!
RAVE REVIEWS
Our customers have kept coming back throughout the years, and they've brought along friends and family too. We are proud to serve families just like yours!
OUR SERVICES
Whether it's a business suit you need spiffed up, the stains removed from an area rug, or you just want your laundry done perfectly, we're the ones to call.
OUR OFFICE
With multiple service areas for your convenience, deep roots in our community, and consistent, reliable service, Bonnie Brite is the clear choice.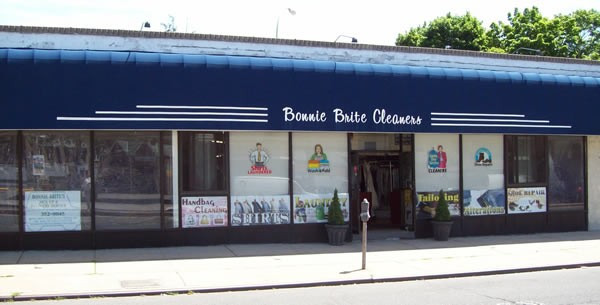 QUALITY GARMENT CARE FOR YOUR
EVERYDAY NEEDS
BONNIE BRITE CLEANERS LAUNDRY SERVICE
At Bonnie Brite Cleaners, we pride ourselves on offering a host of services, fair pricing, and friendly, knowledgeable customer service. As seasoned professional cleaners, we not only provide retail dry cleaning, laundry and related services, but also convenient, free pick up & delivery. We deliver to residential homes, apartment buildings, condominiums, and businesses. For added value and convenience, we have a mobile app and web service available for those who prefer to use the latest technology. You can still stop in or call us on the phone but now, with just a few clicks, you can schedule delivery service, update payment info, check on your orders, update cleaning and laundry preferences, sign up for email order notifications, send us messages and more all online and at any time of day.